Did you know?
54 of all customers would
prefer an electronic invoice.
---
Why SAP Mail?
Initial situation in practice
More and more companies want to use the mail communication path with SAP. However, the STANDARD ERP only has limited functions for sending and receiving to the SAP user. As a rule, only one recipient can be maintained, texts cannot be edited, no attachments can be added, to name just a few limitations. The usability within each application transaction is in many cases insufficient. The documentation for the operation is non-transparent. Many processes can only be mapped awkwardly or not at all due to the lack of functions. These factors make electronic communication more difficult and even lead to business documents being sent by post in many companies.
If companies want to link incoming mail to the operations and objects in ERP, they also quickly reach their limits. The assignment to objects such as purchase order or sales order is hardly feasible manually. As a result, many operations lack the necessary transparency, because important information and documents remain in the mailbox inbox of the respective employee. Longer search times are the result.
It is often a tedious task for IT to set up the mail functions. In addition, many things can only be solved by an experienced programmer. In any case, the range of functions is not sufficient and insular solutions are created.
That's why we have developed add-ons with the MailCenter product family.
Potentials for optimization
---
Full range of functions for mailing
Optimum support for all processes
More transparency – better customer service
Enterprise-wide standard solution without programming
Add-ons to send and receive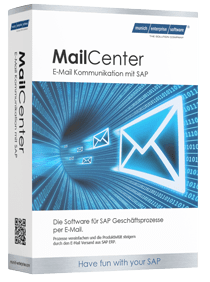 Mailcenter – our SAP add-ons and services around mail focus on improving the processes for sending and receiving. For sending, our MailCenter add-on gives you all the important features to create, send, track and organize contact information within the ERP system.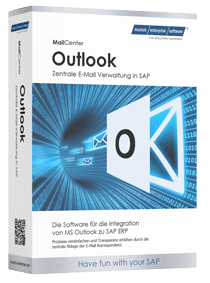 With Outlook Integration, you can store received e-mails from your Outlook Client in the SAP system. These are linked to the associated business object. Users in support will immediately open a service message with the mail storage if necessary. It is no longer necessary to start the service transaction within SAP.
Our support team will be happy to assist you with any questions you may have about SAP settings and configuration. In our Internet portal you will find information about SAPConnect, transaction SCOT, SMTP Server, SMTP plugin etc.
Testimonials
★★★★★

"Our motto is: "Quality is the best recipe". The simple verification of mail recipients before sending, the transparency of the sending of messages and the flexibility of senders, texts and attachments were important decision criteria for us. The user-friendly add-on supports our business processes also at our international locations. Competent contacts."
Janine Dalügge IT Services | Dr. August Oetker Food KG
---
What are the benefits of these SAP enhancements?
Your benefits
---
Simple processes
Shorter processing times
Productivity
Cost reduction
Increasing productivity and reducing costs are important goals of modern companies. Closely linked to this are the demands for shorter processing times, the avoidance of additional processing steps and a reduced error rate.
With the MailCenter you get a tool that adapts flexibly to the requirements of the processes. This means that it always offers the user the best way to send documents by mail. Regardless of whether individual mail processing is required or the highest possible degree of automation is to be achieved during shipping. With the MailCenter, you spend less time processing. The error rate for mailing is reduced.
Would you like to …
---
Increase your productivity by simplifying business communication and reducing the burden on users in their daily work?
Avoid additional processing steps, shorten processing times and thus speed up your business processes?
Optimize your processes and perhaps experience a real paradigm shift in your company?
Benefits of users
Efficient process processing
Easy to use
Automatic + individual mailing
Easy master data maintenance
Central user interface (cockpit)
Overview of all traffic
Extensive reporting
Communication transparent and comprehensible
Did you know? …
In the administration,
30 of working time
wasted.
(Fraunhofer Study "LeanOffice")
Why is the topic important for your business?
E-mail is the most important and most widely used service on the Internet. Messages and documents of all kinds can be delivered to the whole world within seconds. In Germany alone, around 626 billion e-mails are sent each year (as of 2016). More than half of them are in business. Today, more than 80 of the business-relevant communications are carried out in this way.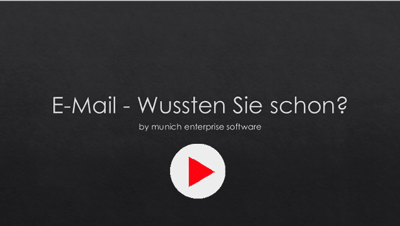 Reduce paper consumption – save costs,
Increase efficiency and improve sustainability
Various studies show that e-mail and EDI messages can achieve significant cost savings. As a rule, it is possible to replace the use of paper documents to a large extent.
Companies that implement your processes with paper incur unnecessary costs for printing forms, postage, filing documents, and validating information.
By using e-mail and EDI, companies save a lot of money in their processes. Our experience shows that there are still many companies that do not use this potential for savings. Paper-based processes for orders, quotes and invoices are still widespread. Sustainability is also at the top of your agenda for many companies. Studies show that the company sees this responsibility as one of the three priorities in the coming years.
Reducing paper consumption through mail and EDI helps companies achieve sustainability. At the same time, costs are reduced and efficiency improves.
How long has the email been available?
Ray Tomlinson sends the first electronic message in 1971, making him the inventor of the email. In 1988, Microsoft Mail became the first commercial e-mail product on the market. Towards the end of the 1990s, it is possible to send messages in the Hypertext Markup Language (HTML) standard. They are usually sent through the Simple Mail Transfer Protocol (SMTP), a protocol used to exchange e-mail on networks. Today, electronic message is hard to imagine without the business. Every year, according to the Association of the Internet Economy (eco), the number of mailees sent in Germany for business increases by around 10 .
Why SAP add-ons from munich enterprise software?
Our solutions are mature and have proven themselves to a large number of customers. The products cover all the functions required in practice. They are also state-of-the-art. Our introductory approach conserve your resources. The work is not complete with the Go-Live. Even after the introduction, we will be at your side with advice and deeds. We are your partner!
With us as a partner, a professional team of experienced project managers, consultants and developers is at your side. Our products and procedures have been developed in close cooperation with our customers. We use the suggestions of our customers for the continuous development and improvement of the applications.
With this add-on, our customers are experiencing a real paradigm shift. This extension provides users with the best possible support for sending mail of business documents from ERP. Whether in purchasing, sales, service or financial accounting. You need less time to process the task. The transmission process is traceable and transparent.
Convince yourself of the advantages of this application during a live product demo over the web. We show you other important benefits aspects for the company, users and IT.
More SAP Add-Ons