How to make your SAP fit for mail
Use SAP mail delivery and incoming efficiently
SAP Mail here you will find add-ons to optimize your mail processes as well as information on setting up the standard.
SAP Mail – initial situation in practice
More and more companies want to use the communication channel Mail also with SAP. However, the SAP user has only limited functions for sending and receiving in the ERP standard. As a rule, only one recipient can be maintained, texts can not be edited, no attachments can be added, to name but a few limitations. The usability within the single application transaction is insufficient in many cases, the process documentation is non-transparent. Due to the missing functions, many processes can only be mapped inconveniently or not at all. These factors complicate electronic communications and, in many companies, even cause business documents to continue to be sent by post.
If companies want to link incoming mails with the processes and objects in ERP, they will quickly reach their limits. The assignments to objects such as purchase order or sales order are hardly feasible manually. As a result, many processes lack the necessary transparency, because important information and documents remain in the inbox of the respective employee. Longer search times are the result.
For IT it is often a tedious task to set up the mail functions. In addition, much can only be solved by an experienced programmer. In any case, the range of functions is not sufficient and there are isolated solutions. That's why we've developed add-ons with the MailCenter product family.
Potential for optimization
---
Full functionality for sending mail
Optimum support for all processes
More transparency – better customer service
Company-wide standard solution without programming
Add-Ons zum Versenden und Empfangen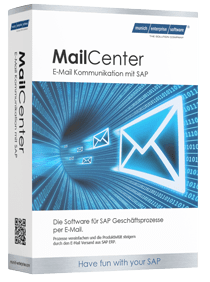 Mailcenter – our SAP add-ons and mail-related services focus on improving the sending and receiving processes. For sending you receive with our Add-On MailCenter all the important functions to create emails within the ERP system, to send, to track and to organize contact data.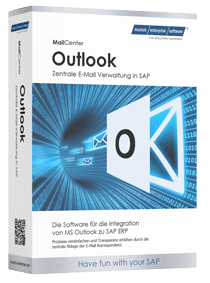 With the Outlook Integration you save received e-mails from your Outlook client in the SAP system. They are linked with the associated business object. Support users open a service message with the clipboard. It is not necessary to start the service transaction within SAP.
Our support will gladly support you with questions about SAP settings and configuration. In our Internet portal you will find information about SAPConnect, transaction SCOT, SMTP server, SMTP plugin etc.
What benefits do these SAP enhancements offer you??
Your benefit
---
Simple processes
Shorter processing times
Increased productivity
Cost reduction
Increasing productivity and reducing costs are important goals of modern companies. Closely related to this are the demands for shorter processing times, the avoidance of additional processing steps and a reduced error rate. The development of the software follows a market-oriented question and answer process. The central questions in this approach are: "What does the customer want?" And "How can we do that?".
The MailCenter gives you a tool that adapts flexibly to the requirements of the processes. This always provides the user with the best option for sending documents by e-mail. No matter if an individual mail processing is required or the highest possible degree of automation should be achieved during shipping. With MailCenter, you spend less time processing workflows. The error rate when sending mail is reduced.
Would you like too …
---
Increase your productivity by simplifying business communication and relieving users in their daily work?
Avoid additional processing steps, shorten processing times and speed up your business processes?
Optimize your processes and maybe experience a paradigm shift in your company?