SAP Outlook Integration – Inbox in ERP

With SAP Outlook Integration, you can save e-mails from your inbox to SAP. Because companies don't just want to send e-mails. There is a desire to store mails from the inbox in SAP ERP. The aim is to conduct correspondence with business partners in a centraland and transparent manner. This means that the responsible employees have access to it at any time. Finally, the relevant correspondence must be visible to all responsible SAP users. Cleanly documented processes make work easier. As a result, search and cost times are reduced. In addition, the quality of service is improving.
Did you know? …
30 % Waste of working time
in administration (Fraunhofer study "LeanOffice")
The Outlook Integration Add-On
---
Easy mail storage in SAP
Central storage, transparent communication
Fewer search times
100 user-oriented solution
Easy installation and configuration
Putting Outlook Email in SAP – Application Example
From Microsoft Outlook …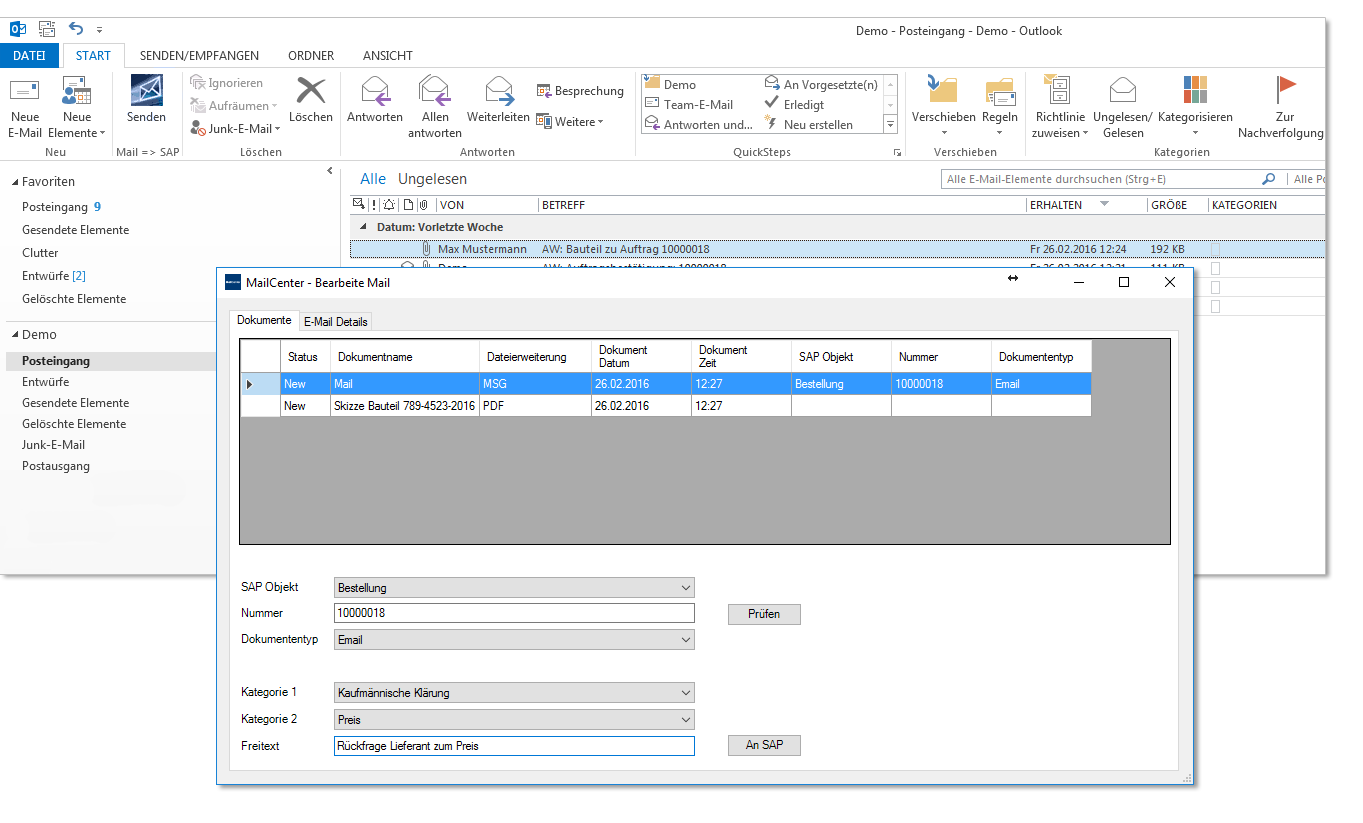 … to SAP ERP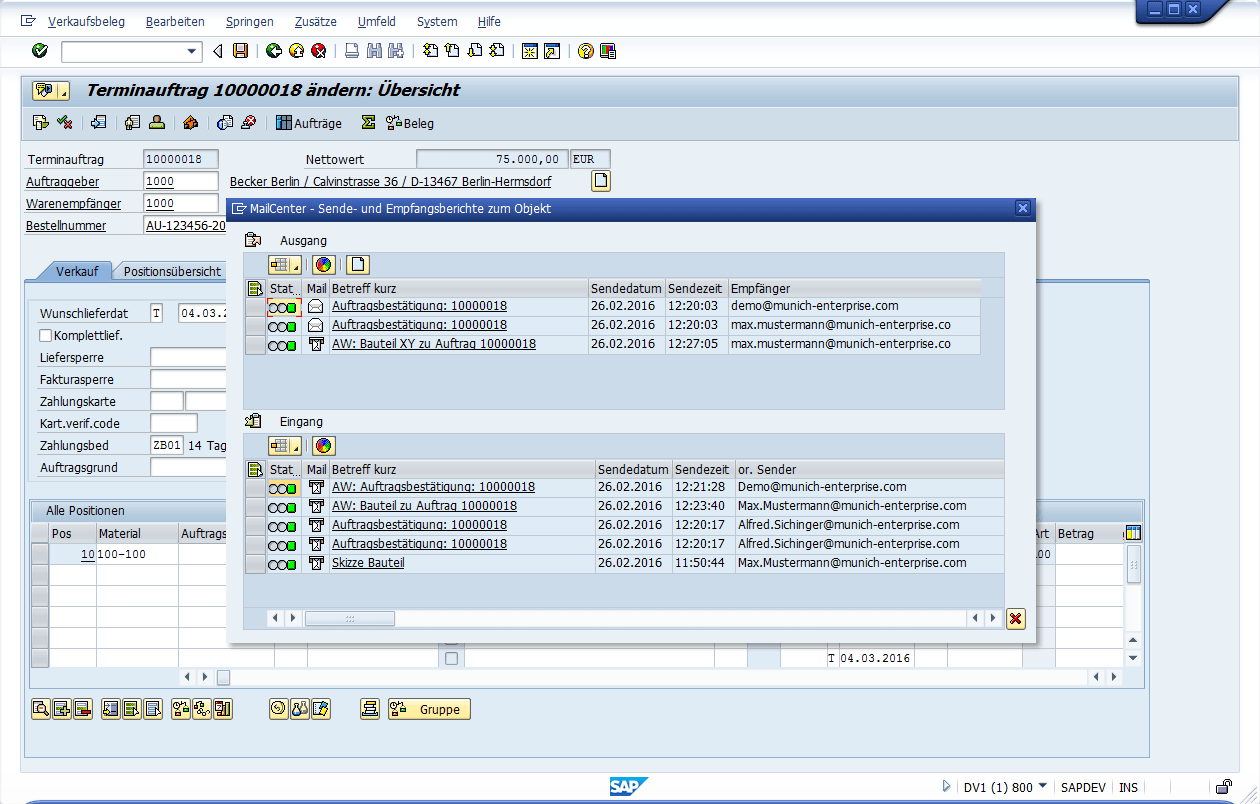 Why store emails from Outlook centrally in SAP?
Users receive numerous e-mails in their inboxes every day. Some of these relate to operations in SAP. These are often messages with important information about an SAP business transaction. When customers and suppliers ask questions, employees search for these mails in both SAP and Microsoft Outlook. This is expensive and takes time and nerves. That's why we added the SAP Outlook Connector to the MailCenter. This allows you to move important messages from the Inbox to the SAP ERP system. In any case, transparency significantly relieves the employees. In addition, fast access to information and service quality are important success factors today.
Learn more about the scenarios you use our solution for.
Basically, the problem exists in all departments. Sales employees receive additional information about offers. Employees in Purchasing receive feedback on inquiries. Suppliers confirm orders. Colleagues in the service receive queries about existing service messages. Without a central storage of e-mails in SAP, the processes are incomplete for the users. As a rule, there is no access to the inbox of your colleague. As a result, processes are difficult to understand and non-transparent. As a result, employees need more time to find information.
In any case, the program is easy and quick to implement. They didn't need any more hardware or software. Simply store the mails in SAP. Turn your SAP ERP into a digital post office.
Does this sound interesting to you? We would be happy to make you an offer!

Customer voice
★★★★★

"We use the MailCenter Outlook add-in. Users praise the ease of use and fast processing. The flexible scaling for additional SAP objects is also very positive."
Klaus Schiffer SAP Base Administrator | ROHDE & SCHWARZ GmbH & Co. KG
---
Benefits for your business
---
All information visible on the SAP operation
Improved visibility, fast access, fewer searches
More efficient work, higher service quality
Security
Improved quality of operation processing
No media breaks, minimizing errors
Easy to use
Simple, user-friendly handling
User satisfaction
Easy implementation
Short introduction time, modification-free and releaseable
No additional hardware or software required
Features – SAP Outlook Connector
---
Automatic search of the SAP object to the incoming Outlook Mail
Function for categorizing messages
Direct linking of mails from Microsoft Outlook Inbox to all SAP objects
Message attachment in SAP directly from mail possible
Inclusion of mails in the attachment list of the SAP object
Archiving the incoming e-mail via the ArchiveLink interface
Mails about the services to the object can be viewed by the responsible processors
The integrated Outlook viewer displays the e-mail in SAP as in the original
Submitted tasks get a new status
Numerous user groups specific settings
What scenarios does the add-on support?
SAP Scenario "Deposit Document"
In many cases, you will lose valuable time in the event of inquiries from customers and suppliers. During the phone call, the search for the associated e-mails for the operation takes place. Sometimes the incoming messages are dormant in a colleague's mailbox. As a result, these documents cannot be accessed.
But how can incoming documents be connected to the business objects in SAP? Some users manually assign the e-mails to operations via SAP Upload. However, this is cumbersome, time-consuming and error-prone. In short, this integration is easier. This is because you store e-mails from your inbox directly in the SAP system. This creates a link with the associated business objects such as sales order or purchase order. As a result, users can find these emails directly on the SAP object. This makes operations more transparent. Search times are reduced. This makes the work easier, faster and better.
SAP Scenario "Create Business Object"
Why do service employees cumbersomely create messages in SAP from inbox operations? After receiving the message in your Inbox, you enter a message in the ERP. Then save the mail to your desktop. In a further step, you link the incoming mail to the created message. This process is cumbersome. As a result, it costs employees time and is prone to errors.
On the other hand, you create messages directly from the inbox with the message attachment function of the add-in. The SAP Outlook integration lets you select the message type. To do this, you link the Outlook mails to the created SAP object directly from your inbox. All this works at the touch of a button in one step. This make the process simple and safe. Finally, you always have the complete documentation of mail traffic in the GOS attachment of the message. Consequently, the linking of message and receipt mails ensures transparency for the user.
Regardless of which of the two scenarios is of interest to you. With this Office Management solution, you can connect Outlook to your SAP ERP system.
Make an appointment for a live demo right away.
What does the MailCenter SAP ERP Outlook integration include?
The software is available for Microsoft Office Outlook 2007, 2010, 2013 and 2016 – 32 bits. The application is available in German and English. In addition to the provision of the programs, we take over the initial setup. The configuration is based on a standardized project roadmap. For this purpose, we determine your requirements at the start of the project by means of a predefined questionnaire. We then adapt the product to your needs. This standardized approach speeds up implementation and conserve your resources. The transports are then imported and the test system and client are configured. Finally, you will receive the briefing.
You will also receive documentation of the technical settings as well as a documentation of the application. Finally, selected key users check the correct setup of the SAP Outlook application. At this stage, our consultants will provide you with advice and assistance. During the production start and operation phase, you will receive support from our support.
In addition, our support service ensures the smooth operation of the SAP extension in your company. In addition, we provide you with regularly updated program versions via our customer portal. For this purpose, you as a customer will have access to the Download area MailCenter. There you will find all documents and documents as well as updates to the program.
Services
Setup & Instruction SAP ERP Outlook Integration
Installation OF the SAP component via the Transport Management System
Technical implementation web service reception in ERP
Instruction on installing and configuring the Microsoft add-on at the workstations
Teach the configuration and features in Microsoft Outlook
Accompaniment Test & Production Documentation
Not included: Installing the SAP Outlook add-in at all workstations
Service & Support Hotline, Helpdesk and Portal
Technical Data
Prerequisite: SAP NetWeaver Application Server 7.00 (ABAP)
Component SAP Server with ABAP and ABAP Objects
Mircosoft .NET-based client with web service technology
SAP Web Service Infrastructure
Suitable for single sign-on scenarios
For SAP ERP and S/4 (not suitable for CRM and cloud solutions)
No settings required for receiving emails in SCOT
With the SAP add-on, many companies experience a significant simplification of their processes. This improves and accelerates your business. Convince yourself of the advantages of this SAP Outlook integration as part of a live product demo. Please contact us today.
Many SAP customers trust our solution. Take a look at our references.
Would you like to learn more about our products such as MailCenter, HotM Monitoring and HotM IDocMonitor? Talk to us. We look forward to seeing you.