This SAP Mail add-on will make your day-to-day work extremely easier
Write emails directly in SAP One or more addressees – Your e-mail effort is low in both cases. Use functions for automatic generation of texts or write an individual text if necessary. In addition, integrate additional systems automatically or ad hoc.
Send emails to match the process Send SAP e-mail – the mail is sent from the document, via stock or automatically in the background. With SAP MailCenter, you can send messages as you need them for your business process: directly from SAP ERP or through Microsoft Outlook Integration. Shipped from SAP – whenever you want: immediately from the document, from the cockpit or at a specific time.
Adapt the functions optimally to the process The functions adapt you flexibly to your requirements. The business process is exactly as you need it. You determine the layout in your own corporate design. Because with HTML, your messages get the right shape. To Go function: Maintain the relevant data for mailing directly in the document.
Improve communication and transparency Regardless of whether you send an SAP order by e-mail or send the payment notification by e-mail – you always keep track of what is shipped and what still needs to be processed. A report informs you about the shipping status. Extensive reporting and easy access to essential information create the necessary transparency.
MailCenter – the software for SAP mail delivery
This is how easy it is to send emails from SAP

Send SAP E-Mail – Do you want to optimize your mail processes? Would you like to provide your users with a mail traffic tool that supports various use cases as needed? Want to learn more about the features that MailCenter offers you, what scenarios you can use it for, and how you can benefit from them?
The add-on for sending emails
---
Optimal support of all mail processes – ordering, invoices …
Accelerated task processing
100 functions for senders, recipients, text, attachment
Intuitive operation
Easy installation and configuration
▶ initial situation ▶ motivation ▶ functions ▶ mail attachment
Ordering by mail – Application example
Initial situation – Send e-mails from ERP
To send e-mails in a meaningful and effective way, you need a solution to edit, send and monitor e-mails within the ERP system. Do you want all the required mail functionality to be available for sender, recipient, subject, text, and attachment to send e-mail externally? SAP message control is not sufficient for this.
In addition, users need clear management of correspondence. SAP e-mail traffic must be traceable. Users don't want to waste time searching for operations.
Contact details of the business partners should also be easily organized. Of course, the operation should remain as simple as possible at any time. With the standard, such a solution cannot be realized without programming. We developed the MailCenter add-ons for this purpose.
to use
Simple processes with the right tool
MailCenter – Most SAP customers need a supplement to the SAP standard in order to be able to work productively with the medium mail. This is exactly what we developed the MailCenter for. This add-on makes an important contribution to optimizing processes. It increases productivity in your company. Without mail, you can save on printing and shipping costs. You also benefit from fast delivery. For example, if you send the SAP orders by e-mail, you will receive the goods faster from your suppliers. This ABAP add-on fits seamlessly into your environment. And it has already proven itself with many SAP customers.

Customer voice
★★★★★

"We can significantly reduce the process processing times in the request and ordering process by using the MailCenter. Mail recipients and technical drawings for the attachment are automatically suggested, process-related mail texts are automatically generated. This conserve the resources of our employees." Elke Hoppe Head of Materials Management | Troester GmbH & Co. KG
---
Functions
Recipients and senders
Automatic sender and recipient discovery
Determination of addresses from different areas of the master data
Multiple To, Cc, and Bcc receivers
Easy maintenance of addresses
Automatic determination of senders
Determination of the address for senders from different ERP data sources
Easy maintenance also for CpD account (Conto-pro-Diverse)
Tools for maintaining master data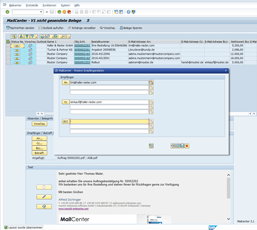 Read e-mail addresses from different areas of the master data.
Transaction to maintain addresses for customers and vendors.
Text and annex
Mail text for organizational unit, task type, language (also per SAP message type mail text can be pflegable)
Text suggestions and generation also with hyperlinks
Design subject, body, signature, and disclaimer with HTML
Formatting of texts in corporate design
Automatically add attachments via Customizing or manually
Attachments from various sources: File, Generic Object Services (SAPOffice), ArchiveLink, BDS, DVS Document Management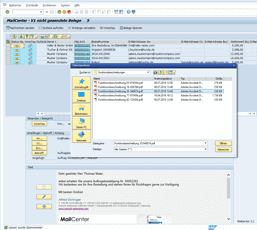 SAP Mail Shipping with PDF Attachment – Add also additional attachments: Attach documents spontaneously or automatically from different sources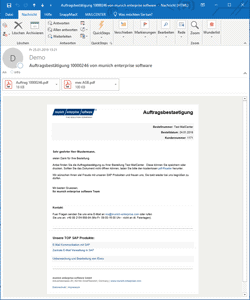 Sent mail from SAP with attachments – Design in HTML
Editing and sending
Creating and editing in the application object (quotation, order, …)
Use of the central cockpit
Sending the message from standard transactions, from the central overview or in batch
Repetition of the messages
Information of the user or information to alternative address in case of transmission errors via Workflow Express Mails
Optional link to Business Workplace
Sending via SAPConnect SMTP nodes
PDF / EDI converter: file summary and conversions of all kinds with PDF2EDI and auto-gration
Integrate tracking solutions
SAP E-Mail Body Text – The user can create and maintain an individual text in the message. In addition, there are predefined texts for subject, body and signature for different processes, such as orders, quotes, invoices.
Customizing and Reporting
Comprehensive reporting capabilities within ERP
Information about open and sent mails with send status also via GOS link in the document
Creation of individual selection variants
View and resend documents with send errors
Flexible adaptation of mailing to the specific process for the user
Numerous ways to set up the application via Customizing and User Exits
Organization, process- and user-dependent settings
Workflow
Customer voice
★★★★★

"The MailCenter is easy to use and can be flexibly adapted to the different business processes."
Uwe Schmidt Information Technology and Organisation | Baier & Schneider GmbH & Co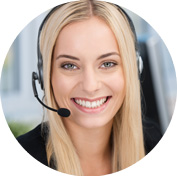 Use this NetWeaver add-on to edit and send the document to all operations directly from ERP. Thanks to the intuitive interface, all important basic functions for editing e-mails are available to the user. These functions can be found in the following areas: Sender & Recipient, Texts (html), Attachments and Reporting.
Numerous features make the work of the users easier. These include proposals for the identification of recipients, the automatic generation of texts and proposals for annexes. This shortens steps for the processor. Likewise, some are completely eliminated. Depending on the use case, the user decides the methods to edit. Accordingly, processes are considerably simplified.
The shipment from SAP takes place directly from the document, the cockpit or automatically in the background. For example, a quote is sent quickly and easily from the transaction for document processing. On the other hand, a reminder may prefer to be sent in the background. In addition, special, individual requirements can be implemented with ABAP extensions.
Find out more about how you can benefit from the features of the MailCenter in our customers' testimonials.
---
Send SAP Mail with Attachment
Do you send orders or quotations in the PDF attachment by e-mail from SAP? Do users should attach further attachments to the mails? These are, for example, flyers, a technical drawing, a calculation or general terms and conditions. Such operations are often found in sales and purchasing.
Let's take a closer look at these processes. This is because users today often work awkwardly. Let's consider the use case: Attach SAP document to purchase order. Before the users send the SAP order by e-mail, save the business document to the desktop. Then add the document in Outlook as an attachment to a message. If you want to attach additional SAP documents to this Outlook e-mail, repeat this process. The bottom line is that such an approach costs users valuable time.
With the MailCenter add-on, you can simply add more attachments to your mail. In addition to the standard SAP PDF append. This works both manually and automatically. The source of the annexes does not matter. This is because the application supports all disks that can be reached by the client. As a result, the process is less prone to errors and saves time. In addition, the mails are fully visible in the ERP system at all times. This makes operations transparent, even for other users.
Take a look at the testimonials of our customers. There you will learn more about the benefits of the MailCenter for users.
Does this sound interesting to you? Then we will be happy to make you an individual offer!
Append SAP Documents – Which attachments can be used?
Files for the attachment can come from a variety of sources.
You add documents as an attachment
the Document Management System (DVS) as part of the Product LifeCycle Management (PLM) environment,
Generic Object Services (GOS) with SAPOffice (SOFF),
the ArchiveLink
The Business Document Service (BDS),
the file system,
an external directory (path on a server)
to the e-mail. In any case, existing attachments can be displayed on the screen beforehand. This requires a suitable viewer for the selected file format. Of course, the receiver also needs a suitable viewer. In addition, DVS documents can be automatically assigned to the document on request. Will the business document in the appendix be sent as PDF? Or you need a PDF and an XML. You also define this in Customizing. If necessary, change the text to describe the attachment before sending it. In any case, the system supports all common file formats for the attachments.
How can I attach a document?
Add attachments manually or automatically -How the attachments are added depends on the process.
On the one hand, the user maintains the attachments manually before sending them. Just as he is used to from Outlook. It simply attaches one or more files to the email in the attachment. And this for the respective process. Completely individual.
On the other hand, you automatically attach attachments according to an individual set of rules. Of course, you configure the proposal about Customizing. With user exits and ABAP extensions, you can customize the finding of attachments to the process. Individually tailored to your wishes. Furthermore, a proposal supports the user in the selection of the required documents. We always pursue a goal. To make the process as automated as possible for the user. In short, no matter which way you choose. Adding attachments to mailing is no longer an issue in the future. You certainly have that under control with the program.
Can the use of documents in the attachment be restricted?
Attachments yes, but please only certain document types – You can activate the use of DVS, Office and ArchiveLink attachments in Customizing. Here, a restriction at the organization and user level is possible. For DVS systems, you limit the use per organizational unit, document type, and status. All documents with a valid status are available to the user in the MailCenter. By selecting them, the user determines the documents relevant for shipping. Manually attached or automatically suggested systems can be re-selected at any time. Sometimes the mail server's policies allow only certain sizes for messages or attachments. Therefore, you define a maximum size for attachments in the configuration. As soon as the maximum size is exceeded, the red lamp goes on. The user receives a hint during the creation. This restricts the use of documents. Furthermore, you influence the selection of attachments with individual ABAP extensions.
---
What is included in the SAP solution?
The SAP add-on is offered as a standard solution. The application is available in German and English. In addition to the provision of the programs, we take over the initial setup. This setup is carried out after delivery of the application on the basis of a standardized project roadmap. Based on a predefined questionnaire, we determine your requirements. This information will be used to adapt the product to your needs. The program is easy and quick to implement. They didn't need any more hardware. Simply send the business document from ERP – make your ERP a digital post office.
We have incorporated the experience gained from a variety of customer projects into this implementation guide. More specifically, the standardized approach speeds up implementation and conserve your resources. The input to the essential functions of the MailCenter is based on the import of the transports and the configuration in your test system.
You will receive extensive documentation of the technical settings as well as documentation of the application functions. Selected key users then check whether the application is set up as desired. In any case, our consultants will of course be at your disposal with advice and deeds during the implementation. After the production start and in the operating phase, you will receive support from our team at any time.
We provide our development services with regularly updated versions of the program. Every customer gets access to our customer portal. Here you will find all documents and documentation as well as the patches.
Available applications
Sales & Service | Request, Quote, Order, Contract
Shipping | Asn
Transport | Forwarding documents
Billing | Invoice, Credit Memo, Direct Debit, Cancellation Invoice, Pro Forma Invoice
Requests | Request, Reminder, Cancellation
Orders | Order, confirmation warning, order reminder
Framework contracts | Contract, confirmation warning
Financial Accounting | Reminder, payment notification, SEPA direct debit announcement
Audit | Consignment, ERS procedure
Subsequent settlement | Agreements
Delivery schedule | Scheduling schedule schedule, scheduling agreement call
Services
Installation via the Transport Management System
Technical Settings in SAP
Configuration of the application according to the needs of your users
Functional instruction, handover and support
Documentation for users
Update Management Support
Support Hotline, Helpdesk and Portal
Options
Tracking within the mail to the delivery notification
Archiving of print messages
Customizing Message Control, Message Type, Partner Roles, and Partner Schema
Maintenance Condition records for message type
Implementation of further individual extensions
Consulting, configuration and optimization SAPConnect (transaction SCOT), SOST, SMTP server and SMTP service configuration
Technical Data
Base – NetWeaver Application Server 7.00 (ABAP)
From ECC 6.0, also for S/4 HANA technology and Simple Finance
Developed with ABAP and with the integrated extension ABAP Objects
Business Communication Services (BCS)
Use of Business Address Services (BAS) features
Use SAPConnect and the SMTP plugin from the Internet Communication Manager (ICM)
SAP Message Control Mail – Control via Message Type / SAP Communication Strategy Mail
Suitable for forms: Smart Forms, SAPscript, Adobe Forms
Microsoft Integration with Object Linking & Embedding (OLE)
Would you like more information about our products, solutions and services related to MailCenter? Just make an appointment for a live demoright away.