SAP Digital Platform – Less work, more productivity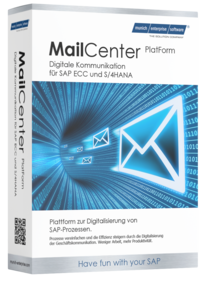 This software works wonders – even in your company
MailCenter is the platform for SAP to make digital communication efficient. It supports the exchange of electronic documents with business partners, externally and internally. A true SAP innovation to optimize communication and automation. With the help of modern information and communication technology, you can optimize your value chain and expand existing content management systems. They will receive numerous new opportunities for shaping the digital transformation in their companies.
SAP Digital – Digitalization and Automation
How your company can benefit from our products
SAP Process Optimization – SAP documents can be sent and received easily, quickly and digitally from the SAP ERP system. The add-on thus represents an important building block in the context of a company-wide enterprise content management strategy. The solution is 100% SAP embedded.
If required, the platform can be supplemented by various applications such as electronic invoices, approval procedures and Outlook integration.
What does digital transformation with SAP mean?
According to a study by the management consultancy capgemini, the requirements of the management for the IT managers are clear: We need the expansion of digitization. This is the most important of all current demands. But what does that mean? What is behind digitalization, Industry 4.0 or digital transformation? According to a survey by the management consultancy Deloitte, medium-sized companies understand everything possible by digitization … from strategic orientation to paperless office.
For us, digital transformation stands for intelligent business technologies that increasingly support companies in automating processes.
How do we distinguish the terms:
SAP Digitization – On the one hand, this means the conversion of documents and information from analog formats into digital structures. On the other hand, digitization stands for the integration of digital technologies into existing processes.
Digital Transformation – According to SAP, Digital Transformation is"an enterprise-wide initiative to integrate intelligent technology into all business areas to achieve better results and optimize performance and business processes".
SAP Industry 4.0 – Intelligent and digitally networked systems as well as new information and communication technology are changing and optimizing industrial production.

SAP Digital – What steps are necessary for digital transformation with SAP?
SAP sees 3 important components of a digital transformation strategy here (see. Article – https://insights.sap.com/what-is-digital-transformation)
1.) Digital – The digitization of manual processes
2.) Intelligent – The integration of intelligent technologies such as AI or machine learning
3.) Management – Cultural change as a management task
Would you like more information about our products, solutions and services related to MailCenter? Make an appointment for a live demoright away.