Did you know? …
54 of all customers would
an electronic invoice
to favor
---
Initial situation – Why send invoices electronically?
Although we have now arrived in 2019 and a large part of the communication in the business is exchanged via e-mail, the majority of invoices are still sent by post. According to the BMI, more than 30 billion invoices are sent by post every year in Germany. For companies, the sending of electronic invoices offers various savings potentials. After all, electronic invoices do not only save paper and postage. By sending invoices from SAP, you can replace labour-intensive and error-prone processes.
Motivation – invoice by e-mail
When you send invoices to your customers, there are many advantages:
---
Printing and shipping costs are saved
Fast and secure delivery (also abroad)
Shortening the period from invoicing to receipt of payment
Processes in invoicing are significantly simplified
Invoice in Corporate Design
Easy installation and configuration
Functions – Send SAP Billing by E-mail
With the MailCenter a light exercise. With the add-on, it is seamlessly integrated into the system and can be flexibly adapted to the respective business process. You create, edit and send emails directly in the ERP backend. This solution makes an important contribution to the digitization of your company.
Invoices with unstructured, structured and hybrid data formats such as HTML, PDF and PDF/A
Multiple contacts per invoice recipient
Possibility CC and Bcc address
Easily and flexibly customize mail titles and text
Invoices in corporate design with (mandatory) standard information
If necessary, complete invoice as HTML without pdf attachment
The transmission process is transparent and traceable
Send from Cockpit Transaction or in Batch
Flexbiles Customizing
In addition to the basic topics, there are of course also questions about the ERP standard with mail titles and texts, body, corporate design and (mandatory) standard information with transaction SODIS. This is exactly where the standard has shortcomings, as well as with recipient discovery (only one address), mail processing, design and the management of file attachments. Companies that use ERP and want to send documents quickly and efficiently will in most cases need an additional IT solution.
---
Electronic invoice or e-invoice
Conceptuality according to Directive 204/55
In language usage, e-mail with attachments as well as purely pictorial representations as well as exclusively structured data formats are referred to as e-bills. European Directive 204/55/EU of 16 April 2014 describes the framework conditions for electronic invoicing (e-invoicing) for public contracts. The Directive defines the concept of electronic invoices in Paragraph 4a as follows: 'An invoice shall be electronic when it is issued, transmitted and received in a structured electronic format, the format is automatic and electronic. processing of the invoice."
Prerequisite for electronic invoices
Various conditions must be observed when using it, such as consent by recipients of the invoice, human readability, authenticity of origin,mandatory information (see paper invoice).
Read also = > E-invoice
Digital Signature – Simplification for Electronic Invoices since 2011
In order to make a breakthrough in the acceptance and dissemination of electronic mail, especially electronic invoices, in everyday business, the legislator has reduced the requirements (qualified electronic signature or transmission in the EDI procedure). The digital signature is no longer necessary. Since 1 July 2011, invoices can be sent electronically without the need to use a digital signature.
The abolition of the electronic signature has made it easier to create and use electronic invoices for the biller and the recipient. Since then, the mailing of invoices has been steadily increasing. Of course, there are still customers who only accept invoices by paper. Nevertheless, invoices sent electronically are on the rise and legally valid.

---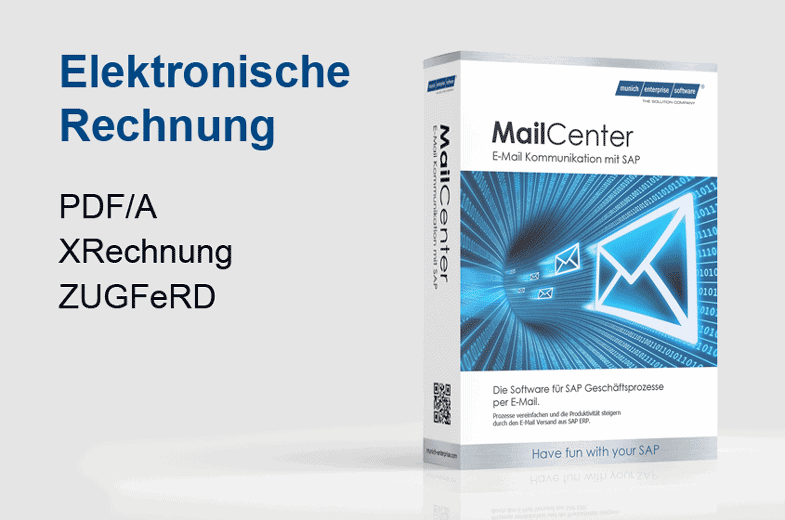 XBill
Obligation for invoices to contracting authorities
The X-invoice specifies a digital format for digital invoicing. It was determined by the IT Planning Council for the Federal and State Governments. In this way, Germany is creating a uniform format for electronic invoicing. The format complies with European level requirements under EU Directive 2014/55/EU. Under the EU Directive, suppliers of contracting authorities must be able to produce correct electronic invoices to authorities in Germany from the end of November 2020. As an electronic invoice, all public contracting entities will in future only accept the X-bill.
MailCenter Extension – SAP XInvoice
That's why we have developed an extension for XIns and ZUGFeRD for our MailCenter customers and fully integrated it into SAP. This allows you to create, validate and send invoices according to the German XInvoice format. The creation takes place directly in the course of invoicing with SAP.
SAP XInvoice – Functionality
XInvoices: The MailCenter Add-On E-Invoice generates XInvoices in EU-wide standardized XML UBL format.
ZUGFeRD. For this type of electronic invoice, a PDF A/3 file is generated in addition to the XML CII file.
Operations and Versions
UBL XML Invoices (UBL Invoice) and Credit Credits (UBL CreditNote)
Checking The UBL XML for Schema Compliance XInvoice
Current version: XRechnung 1.21
Current version: ZUGFeRD 2.0 (requirement, invoice as Adobe print form)
The archiving of documents XInvoice and ZUGFeRD is possible via SAP ArchiveLink in the standard.
System requirement
MailCenter from version 31.023 (01/2017)
SAP_BASIS from Software Component Version 700
SAP Product Version from SAP NETWEAVER 7.0
Adobe Server NW750 ADS SP-5 (ONLY for ZUGFeRD)
Do your customers include public authorities and contracting authorities? Then you become active now. See the performance of the MailCenter extension for XIns and ZUGFeRD. We would be happy to introduce you to the SAP Add-On as part of a live demo (45 min.).
Then it's best to just get a picture of yourself.
You can also read more about XRechnung here: XRechnung .
Overview Invoice formats PDF, PDF/A, XRechnung, ZUGFeRD
Different formats are possible for invoices by e-mail.
Invoice formats
Unstructured data formats: Invoices in .pdf-, .jpg or .tif format
Structured data formats: XML, EDI, XRechnung
Hybrid data formats: PDF/A, ZUGFeRD
Transmission channels: e-mail, DE-mail, e-mail or web download
PDF/A
PDF/A is a file format that arose from the desire for long-term archiving of digital documents. The format is standardized by the International Organization for Standardization (ISO) as a subset of the Portable Document Format (PDF).
See also = > SAP Adobe Forms
ZUGFeRD Initiative
The Forum electronic invoice Germany (FeRD) has developed a common overarching format for electronic invoices. The format can be used for the exchange of accounts between businesses, public authorities and consumers. This allows the exchange of structured data between the biller and the recipient ("ZUGFeRD" format). The ZUGFeRD invoice format makes it possible to transmit invoice data in a structured manner in a PDF file. These are read out and processed without further steps.
The FeRD invoice format has been developed by companies from the automotive, retail, banking, software and public sectors. It meets the requirements of international standardization. It can also be included and applied in cross-border European and international accounting transactions. Whether and to what extent the ZUGFeRD initiative can establish itself on the market is currently questionable. So far, the format is only available for invoices. An extension to other processes is discussed. See also = > ZUGFeRD.
E-BILL. Gv. At
E-BILL. Gv. AT is the data transfer procedure for the submission of electronic structured invoices (e-invoices) to public administration or companies in Austria.
For information on this, as well as the topics "SAP Billing by E-mail", "Mails with PDF invoices", "Creating electronic invoices" and "Send invoices electronically", please contact us. We are happy to help.
Timeline PDF/A, ZUGFeRD and XInvoice
From 2005 PDF/A-1
PDF/A-1b
PDF/A-1a (based on PDF 1.4)
From 2011 PDF/A-2
PDF/A-2b – (Based on PDF 1.7) guarantees the correct appearance of the document for long-term archiving.
PDF/A-2u – all text is shown in Unicode
PDF/A-2a – structural and semantic properties
From 2012 PDF/A-3
PDF/A-3 – Opens up possibilities for electronic invoices, because with this standard machine-readable data in XML format as well as the archive-compatible PDF output of the invoice can be stored in a file
From 2014 ZUGFeRD
ZUGFeRD Version 1.0 – Initiated by the Federal Ministry of Economics and Energy (BMWi)
2 Parts: PDF/A-3 + structured data in XML format are attached to the PDF/A-3
From 2018 X-bill
XInvoice – to be committed from 2019 and 2020 for all public contractors. Contractors must switch to sending electronic invoices by 27 November 2020 at the latest.
As of 2019 ZUGFeRD Version 2.0
ZUGFeRD version 2.0 – this format plays a minor role in addition to the X-calculation. Public institutions use the standard of the X-bill adopted by the IT Planning Council in a uniform manner.
SAP PDF/A
The following PDF/A versions are supported as of SAP NetWeaver AS for Java 7.5 SP05 (ADS version 1160.2016+):
Supported PDF/A formats
Format
Standard
PDF/A-1
ISO 19005-1
PDF/A-1b
ISO 19005-1
PDF/A-2b
ISO 19005-2
PDF/A-3b
ISO 19005-3
You define the desired PDF / A format in the print program. For the scenarios "Archiving" and "Printing and Archiving" it is still possible to activate the PDF / A output via a BAdI (Business Add In).
Since NW Release 7.50 SP05 offers ADS the ability to convert PDF files to PDF/A or ZUGFeRD PDF/A. The converting PDFs must meet the following requirements:
all non-native Adobe fonts must be 'embedded'
PDF version is 1.3 or higher
PDF is not interactive
PDF is not dynamic
Use the following feature test to verify that the ADS version you are using supports this feature: ABAP class CL_FP_FEATURE_TEST.
---
PEPPOL
What is Peppol?
The international project Pan-European Public Procurement OnLine (PEPPOL) aims to standardise cross-border, electronically supported public procurement procedures within the European Union.
The aim is to speed up the electronically supported public tendering and procurement process and thus save costs.
PEPPOL supports E-invoicing Directive 2014/55/EU. PEPPOL is not limited to the exchange of invoices (E-Invoicing) such as ZUGFerd. It covers the entire electronic procurement process. PEPPOL allows the exchange with all registered partners in the network via a connection. Access is via so-called access points.
How does Peppol work?
Different types of messages, such as the invoice, are exchanged over defined standards. These standards include the Universal Business Language (UBL Standard ISO/IEC) format. The PEPPOL network is used to exchange The UBL documents.
SAP Peppol
SAP is one of the first providers to provide the basis for electronic invoicing to authorities in accordance with the secure PEPPOL standard. The Walldorf-based company provides a cloud-based solution for this purpose.