SAP Mail · SAPConnect · Configure mailing
Set up and optimize SAP Mail and SAPConnect
FAQ about SAP Mail and Setup Mail Delivery

Configure SAP Mail and SAPConnect – to enable sending and receiving mails with SAP ERP System, some settings are necessary. For this purpose, we have collected some important SAP hints and created a guide for the setup.
SAP Support Notes
Notes on EMail, SAPConnect, SMTP, SCOT, SOST
The following is useful information about how to configure on the ERP server. Find out which SAPConnect parameters are important and how to set up email via SMTP in the SAP Web Application Server. What prerequisites and steps are necessary inside and outside the SAP system? Here you will find the right answers. Please have your S-User ready to log in to the Support Portal.
Note Description
SAP Note Number
Symptom
Configuration Email, Fax, Paging/SMS via SMTP
455140
How to configure email, fax, or paging/SMS via SMTP in the SAP Web Application Server
Email (SMTP) in various SAP releases
455127
Overview note – Send or receive emails from SAP systems. What components are needed? What additional hardware and software is needed? Overview of installation, configuration, and administration documentation?
SMTP via TLS and SMTP authentication
1747180
You want to use SMTP through TLS or SMTP authentication. – Configure SMTP authentication and SMTP via TLS/SSL for incoming mails (system type AS-ABAP)
SCOT: Settings for TLS and SMTP AUTH
1724704
Settings to support TLS and SMTP AUTH in transaction SCOT.
SAPCONNECT Performance
598718
Sending e-mail, fax or SMS/paging via SAPconnect is too slow. The amount of messages generated by SAP applications cannot be handled in a reasonable time. What amount of messages can be sent? How can i improve performance and increase throughput?
Testing fax and email
152474
How can R/3 applications be used to test the sending of documents via fax, paging or Internet mail?
What are the system requirements? What to configure?
SMTP plugin: MS Exchange only sends on port 25
546147
Port 25 is not enough or multiple tenants receive emails
Support for SAPCon. RFC Interface
1236270
The SAPconnect RFC interface is no longer supported for e-mail as of SAP Netweaver 7.0. Starting with SAP Netweaver 7.3, only SMTP nodes are maintained in transaction SCOT.
Configuration of e-mail using SMTP (outbound) [Video]
2148070

E-mails should be sent from the SAP system via SMTP. A quick and easy configuration guide is required.

Size limit for outgoing e-mail
1171138
only e-mails that do not exceed a defined size should be sent via the SAPConnect SMTP interface
Archiving from SAPoffice
88970
Archive documents from SAPoffice
SAPoffice: Reorganization – how to use?
728063
This note is outdated! Please note new note 966854 and new reorganization report RSBCS_REORG!
Send SAPConnect Trace to SAP for Error Analysis
194926
Create and deploy a trace
Problem analysis when sending or receiving emails
607108
Emails are not sent or received in the SAP system. What should be said to investigate the problem?
Reorganization SAPoffice and Business Workplace
966854
Reorganize SAPoffice Business Workplace – SOST – Tables SOOD, SOOS, SOC3, SOFFCONT1, BCST_SR etc.
Automatic email in case of alert (RZ20)
176492
RZ20: Automatic mailing with CCMS_OnAlert_Email does not work.
Sending email from print control of the message
208271
This note describes how to extend the print control of the messages in such a way that you can also send documents as an attachment in an email. The print document is attached to an email as a pdf file. The recipient's email address is entered on the print control pop-up. The change affects the papers in qm and PM, message and order. – 2018
E-mail to distribution lists
834102
You want to send e-mails to distribution lists in Broadcasting. The distribution lists are defined in a groupware solution (for example, Microsoft Exchange, Lotus Notes). – 2005
---
Just send emails from?

Then take a look at the MailCenter. ▶▶▶

Customer voice
★★★★★


"Our motto is: "Quality is the best recipe". The simple verification of mail recipients before sending, the transparency of the sending of messages and the flexibility of senders, texts and attachments were important decision criteria for us. The user-friendly add-on supports our business processes also at our international locations. Competent contacts."
Janine Dalügge IT Services | Dr. August Oetker Food KG
---
SAPConnect – Set up mail ingess
Configure SAP Mail Shipping – Quick Start Guide
Connect to mail server and define routing – In transaction SCOT, under "Business Communication Administration => Settings => Outbound Messages => SMTP Nodes," you make the following settings:
Set the indicator "Nodes in operation"
Mail host: Enter the IP address or host name of the mail server
Mail port: Usually 25 or 587
Supported address types: Internet and address range "*". to use this node for all e-mail addresses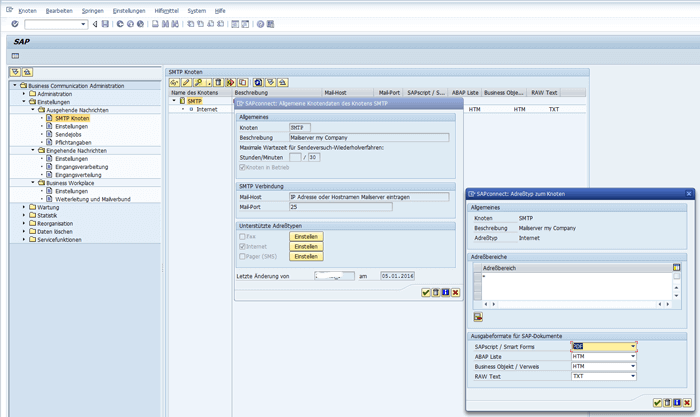 ---
Default domain – In the SAPConnect administration, you enter the default domain with transaction SCOT under "Settings => Domain". Here you define the domain of the SAP company, e.g. erp-prod.mycompany.com.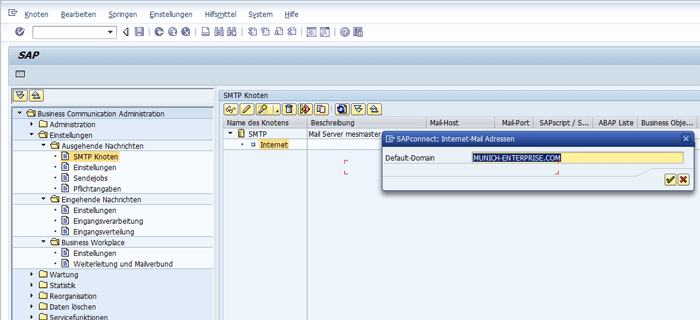 ---
Maintain Senders – In User Management, you enter an e-mail address for each user. This serves as the sender when sending mails. Enter the e-mail address in the "E-mail address" box. For maintenance, use transaction SU01. If possible, use the domain of the SAP company as a domain, such as the erp-prod.mycompany.com (see default domain).
---
Create TestMail – Use the SAPoffice transactions SO01 or SBWP to generate a test mail. This will check the correct sending of the e-mail from your SAP system.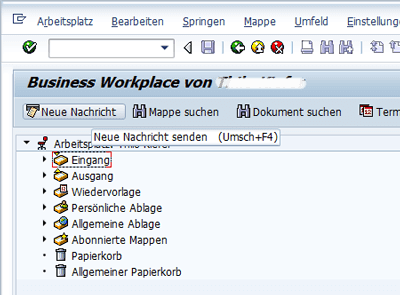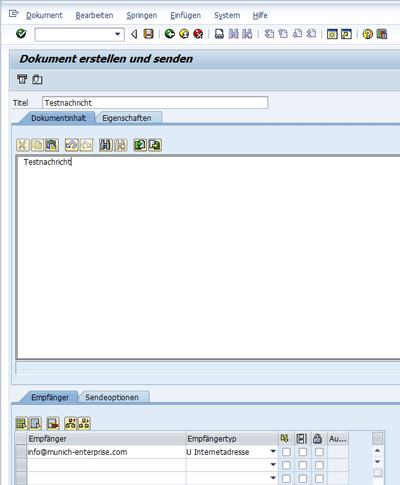 Control Mail shipping – SAPConnect send orders you control via transaction SOST. Because here you can see the e-mail created in the previous step.
---
Important note – The SAP system connects you to a mail server on both the initial and output sides. In any case, you must equip them with appropriate virus scanners and spam filters before using it. In addition, it is recommended that you disconnect the receive socket from the firewall to the outside. This means that service by third parties is not possible. It is also recommended that you do not communicate with a mail server outside the firewall on the outbound side. The instructions differ slightly in different SAP release states. You must make these SAPConnect settings in each company that performs send processes.
---
Configuring SAP Mail Receive
Create users (TA: SU01)
Maintain profile S_A.SCON E-mail address: Einkauf@DEV.Mustermann.de
Profile parameters (TA: RZ10)
is/SMTP/virt_host_0 *:25; => Reset to 0 icm/server_port_2 PROT=SMTP,PORT=25,TIMEOUT=180, PROCTIMEOUT=120 This opens a TCP/IP port for receiving mail from the SMTP plug-in.
Activate service (TA: SICF)
Customizing in the Development System (Transport) – Attention Tenant Assignment Service Name: SAPconnect Description: SAPconnect (E)SMTP Handler: CL_SMTP_EXT_SAPCONNEC Credentials: (User, Password, Language) of the Service User After Creating or Changing Activate service
SAPconnect Administration (TA: SCOT)
Check Default Domain (see above) Done!
---
Do you want to optimize your SAP Mail processes?

Click here to go to the MailCenter ▶▶▶

Customer voice
★★★★★

Gries Deco Company stands for innovative decorative items. We always want to leave a good impression on our customers. We can best represent the special requirements for the appearance and content of our e-mails with the MailCenter. Product and service are highly recommended."
Holger Rommel CIO | Gries Deco Company Ltd.
---
FAQ to the standard
How can I change the sender?
Yes, but only with programming. SAP has developed the BADI – BADI_MM_PO_OC_EMAIL for this purpose. This allows you to change the sender's e-mail. Please note 2171371. Without programming, the email address can be maintained with the background user. If there is an address there, it is used. Otherwise, SAPConnect generates an address from USERID and domain.
How can I change the subject?
If you want to send a document, you can maintain the mail title (subject) as well as a mail text in Customizing for the message type.
How do I get the signature in the mail?
As with business letters, e-mail is subject to minimum levies. In transaction SODIS, you maintain these mandatory information.
Does sending mail from SAP work via Office 365?
Sending SAP Mail via Office 365 is explained in the SAP Community Network. Set up an SMTP service for an Office 365 Online Exchange Mail Account: SAP SMTP service with Office365 online exchange
---
Terms SAPConnect, SMTP, SAP SCOT, SAP SOST explained simply
SMTP – The Simple Mail Transfer Protocol is a protocol for exchanging e-mail on computer networks. It is primarily used to initiate and forward e-mail. E-mail collection is done via other protocols such as POP3 or IMAP. Typically, servers use port 25 when they receive e-mail. Newer servers now use port 587 to authenticate users.
TLS – Transport Layer Security (TLS) or the predecessor Secure Sockets Layer (SSL) is an encryption for secure data transmission over the Internet. Starting with version 3.0, the protocol is further developed and standardized under the name TLS.
SMTP-Auth – This authentication is a protocol and supplement to ESMTP. This allows the mail server to authenticate the mail client using a username and password.
SCOT – SAPConnect transaction to set up external communication.
Transaction SCOT ▶ SAPconnect – Administration
SAPConnect – provides a unified interface for external communication. This is used, for example, for MAILVERSAND. SAPconnect enables connection to the Internet via the so-called SMTP plug-in of the SAP NetWeaver Application Server.
SMTP plugin – The SMTP plugin is available from SAP Web Application Server 6.10. The plugin works with any SMTP-enabled mail server. No other external components are required.
SOST, SOSB, SOSG and SOIN – SAP transactions for an overview of the send orders. This allows you to see all messages sent and received via SAPConnect.
Transactions Send Orders Output:
SOST ▶ SAPconnect Send Orders
SOSB ▶ Overview Send Jobs (Users)
SOSG ▶ Overview Send Orders (Groups)
Transaction Send Orders Receipt:
SOIN ▶ BCS: Incoming Send Orders (SMTP)
Important tables:
SAP SOST Table = SAPoffice Status Log Table.
Table SOOS = SAPoffice: Send operation
Table SOES = SAPoffice: external send operation
The SAPoffice reorganization should be scheduled at regular intervals (Report: RSBCS_REORG).
---
Facts about email you're guaranteed not to know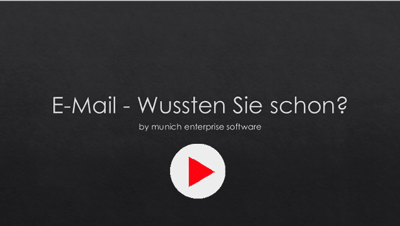 Learn more about SAP Mail, SAP Mail Shipping, and SAP Outlook Integration
Are you interested in information, news and contributions to SAP Mail? Or would you like to stay up-to-date as a partner in our community? Then subscribe to our newsletter. Simply sign up. This service is of course free of charge. Are you looking for answers to specific questions? Or are you looking for a special post? Then just contact us. We look forward to contacting you.