Definition of monitors to monitor the IDoc interface – SAP IDocMonitor
transaction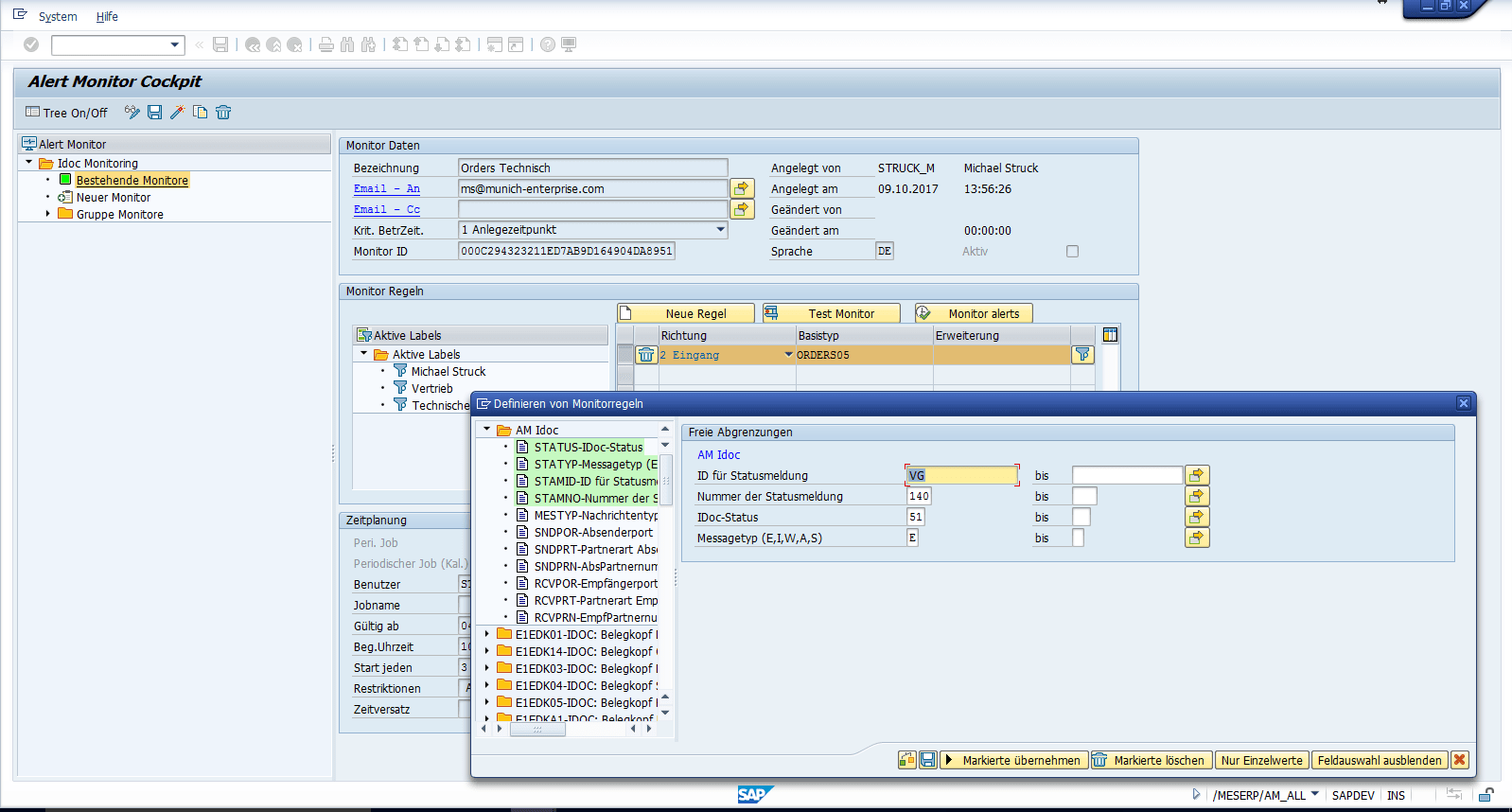 Notification of the responsible reviewer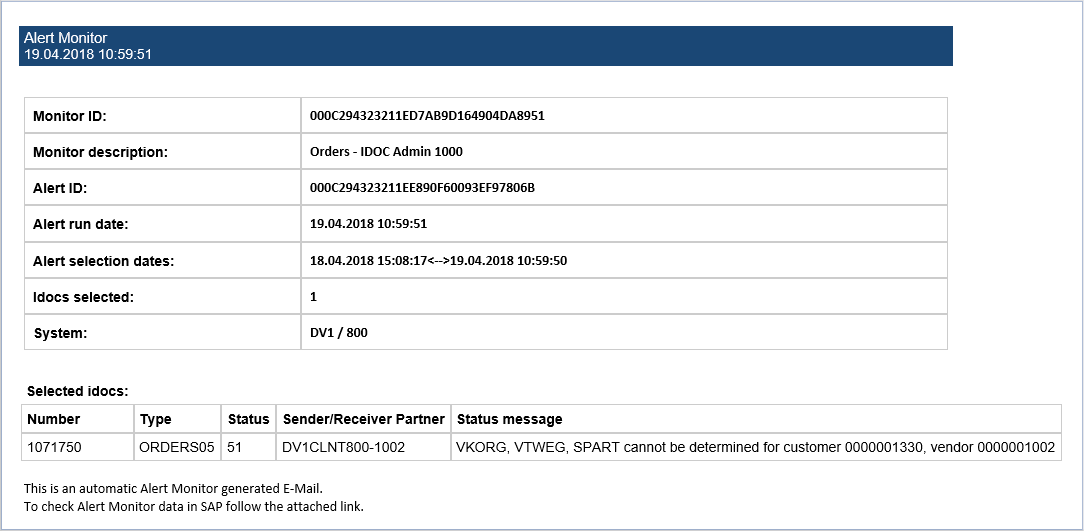 Monitor Report – Direct jump in ERP and editing in the cockpit by clicking on the link in the alert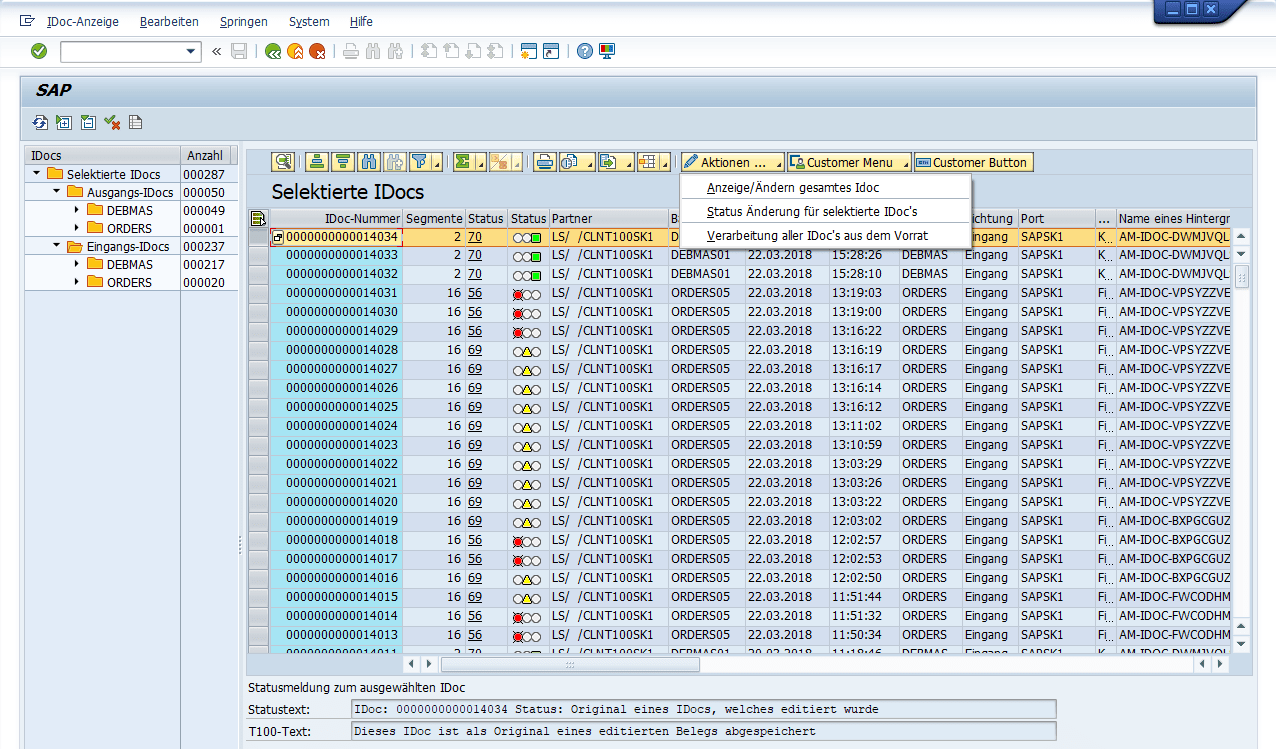 Why SAP IDocMonitoring?
Background: IDocs are the central format for data exchange with internal and external systems. On the one hand, you collect data from the application documents and master data in IDocs as part of the initial processing. The shipment to the target system then takes place. On the other hand, during inbound processing, a source system is passed from to the input interface. After that, they are stored in the system. In a further step, the document data is generated and posted to the respective application. However, errors occur in processing EDI operations in an ERP system. In practice, many companies spend valuable time detecting and correcting these errors. As a result, business processes are delayed and disrupted.

With the IDocMonitor, know at any time whether the data transfers of your business operations are running correctly
Due to easily definable content and technical rules, these states are immediately recognized. In the event of a previously defined situation, the responsible employees are automatically informed via alert e-mails. In addition, you correct the reported errors directly from the e-mails. You define the rules for monitors to detect specific situations and the distribution of messages according to your needs.

How does the IDocMonitor work?
With the monitor, you define technical and content monitors in ERP. These periodically check the system state by using jobs in the background. As a way, faults are detected immediately and without personnel effort and the right measures are automatically taken. You can easily distinguish between technical and content problems when processing the IDocs. The special user interface makes it easy to define the required filter criteria for monitors. Relevant business content, error and status codes can be easily identified in the selection. Simplify and accelerate time-consuming routine activities with this tool. Your IT team and administrators will be relieved. This is because iDocMonitor improves the monitoring and correction of operations. The distribution and ease of use mechanisms allow you to move activities from the IT base to the relevant department. Would you like to learn more about the features of the IDocMonitor? Make an appointment for a live demo right away. We would be happy to introduce you to the product.
What functions are available to you in the IDocMonitor?
Monitoring with SAP new IDocMonitor transaction
Define monitors to monitor the system
Easy maintenance of technical and content criteria with status
Easy configuration with business criteria
Test tool for the rulebook
Definition of distribution lists for sending notification emails
Automatic notification of "faulty" system states via Alert emails
Flexible design of alerts via HTML
Easy processing of IDocs from the e-mails with a direct jump into the application
What are the advantages of using the IDocMonitor?
The timely detection, control and correction of IDocs is an elaborate, time-consuming activity in the ERP standard. As a result, control and monitoring burdens both IT departments and the department. In many individual steps, error situations must be detected and analyzed.
In practice, the challenges lie in the following topics:
---
Timely detection of technical and content-related error situations
Monitor EDI output
Monitor EDI input
IDOC standard transactions such as WE02, WE05 and BD87 are technically oriented and not content-oriented
WLF_IDOC also meets the requirements of IT and users insufficiently
In these transactions, field names are used instead of business terms
In case of error – cumbersome navigation, search and transaction for IDoc processing
Processing IDocs with transaction BD87 is confusing and too complicated for the business / department
Display many clicks necessary for SAP transaction IDoc
High coordination effort in the event of content errors between IT, department and business partner
Control takes place in the IT department, although the department is responsible for content-related issues
These challenges are to face up to when monitoring IDocs. That's why we at munich enterprise software have developed the IDocMonitor as an add-on for ERP. Regardless of whether they are IDocs for the exchange of business documents via EDI or IDocs for linking various business applications and systems. The bottom line is that iDocMonitor allows you to control your interfaces effortlessly. This significantly reduces the times for detection, analysis and processing of errors. This speeds up your resources and processes.
What is included in the IDocMonitor solution?
With the IDocMonitor you get a real "ready-to-run" solution. After all, it is quickly installed and ready for use within a few days. Furthermore, you do not need any additional components for software and services. This makes integration into the existing infrastructure very easy. In addition, you define the rules for monitoring with technical and content filter criteria without any further special knowledge. In any case, you can add or change the so-called alerts yourself after a short introduction. This service in the briefing is included in the package. This gives you a solution to monitor and correct EDI data in a timely manner.
Services
Portal access for software download
Installation via the Transport Management System
Transports with relevant software components
User documentation
As required: Instruction in user functions
Update Management Support
Support Hotline, Helpdesk and Portal
System requirement
Product versions from:
EHP2 FOR SAP ERP 6.0
SAP ERP 6.0
SAP NETWEAVER 7.4
Also for SAP S/4HANA – from SAP S/4HANA ON-PREMISE 1511
Technical Data
For SAP ERP and S/4HANA
Compatible and tested also for S/4 HANA Technology 2020
Developed with ABAP and with the integrated extension ABAP Objects
The bottom line is that many companies experience a significant simplification in monitoring their electronic business processes with this add-on. This improves and accelerates your daily business and data sharing with business partners and partner systems.
Are you looking for a tool that makes it easy for you to easily monitor your interfaces? See the benefits of this application as part of a live product demo on the web. Contact us today.
You are also welcome to subscribe to our free newsletter. Because with the news from mesAktuell always stay up to date. Would you like to learn more about our products, solutions, services and support? Talk to us. We look forward to seeing you.