Why is This Topic of e-mail so Important?
The e-mail is the most important and widely used service on the Internet. Messages and documents of all kinds can be delivered within a few seconds in the whole world. They are usually sent via the Simple Mail Transfer Protocol (SMTP), a protocol that is used to exchange e-mails across networks. Ray Tomlinson sent the first electronic message in 1971 and is considered the inventor of email. In 1988, the first commercial product for e-mail traffic appears on the market with Microsoft Mail. In the late 90s, it is possible to send e-mail in Hypertext Markup Language (HTML) standard.
In Germany alone, about 626 billion e-mails are sent in the year (as of 2016). More than half of them in commercial transactions. Over 80% of business-related communication takes place today via e-mail.
How Important is the e-mail for Sending and Receiving Business Documents?
The e-mail is hardly an integral part of the business. Each year the number of business sent to Germany mails is growing, according to the Association of Internet Industry (eco) by around 10%. Each of these business e-mails sent or received, containing business documents or information about it. Often they are directly related to operations in the Enterprise Resource Planning (ERP) system, the core of many companies. For us as SAP software company, of course, the ERP system SAP is the focus.
Why is This Topic of Sending and Receiving e-mails for SAP Customers Interesting?
When we look at the SAP processes for sending and receiving e-mails, a number of possibilities for optimization are offered here for companies.
This is because the user has only restricted functions within SAP for sending e-mails. As a rule, only one recipient can be maintained, texts can not be edited, no attachments can be added, to name just a few restrictions. The usability within the individual application transaction is in many cases insufficient, the transaction documentation is intransparent. Due to the missing functions, many processes can only be represented cumbersomely or not at all. These factors make it difficult to communicate via e-mail, and even in companies, business documents are still sent by post.
If companies in the user's mail client link incoming e-mails with the operations and objects in SAP ERP, they also quickly reach their limits. The assignments to objects such as purchase orders or customer orders are hardly feasible manually. As a result, there is a lack of transparency in many transactions, since important information and documents remain in the mailbox input of the respective employee. Longer search times are the result.
Mail – Add-Ons and Services to Send and Receive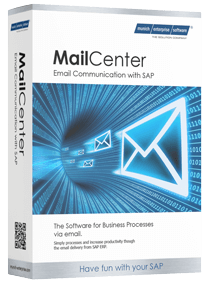 Our SAP add-ons and services related to mail are focused on improving processes for sending and receiving e-mails. For sending, our add-on MailCenter provides you with all the important functions to create, send, track and organize emails within the ERP system. For more information about sending e-mails, please visit MailCenter.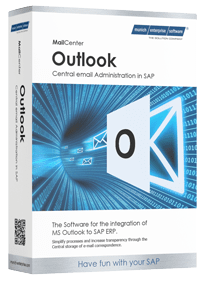 With Outlook Integration, you can store received e-mails from your Outlook client in the SAP system and link them to the associated business objects. Users in the support can open service messages based on incoming e-mails without having to start the service transaction within SAP. For more information about receiving mail using the Add-On MailCenter, see Outlook Integration.
Setting up and Configuring SAP e-mail: Our support service is also glad to assist you with questions about SAP e-mail settings and configuration. In our Internet portal you will find SAPConnect information on SAPConnect, transaction SCOT, SMTP Server, SMTP plugin etc.
Your Benefit
Efficiency is a key issue within IT. Do you want to increase your productivity by simplifying your business communications and reducing your users' daily workload? Do you want to avoid additional processing steps, shorten machining times and speed up your business processes? Would you like to optimize your processes and perhaps experience a regular paradigm shift in your company?
Our solutions and services have proved themselves with a large number of well-known customers. The references are for us the best advertising.
Key benefits for companies, users and IT can be found on our website.